"Breath taking and wonderful views we went early in the morning , no negatives at all wonderful experience"
This review we've never encountered a tourist expressing such sentiments before, and to be honest, we're very pleased!
The Langkawi Cable Car, officially labeled a Langkawi SkyCab, is one of the finest things Malaysia has to offer and is fascinating for tourists. Don't miss the trip on the Langkawi cable car due to its beautiful position and much more that it offers nearby! 
This cable car offers an amazing view of the mountains of Machinchang in the background. It is 2150 m long and extends to 680 m with a panoramic view of the treetops of the thick jungle. The 15-minute exciting cable car journey is full of adventure and provides an insight into the bizarre views of the ancient rock formations and thick woods.
The Seven Wells, another big feature on the island, may also be seen from the gondola. There is a little restaurant on top of the mountain and a shop where you can purchase some food. There is an observation platform with numerous signs pointing to the major towns and neighboring countries such as Thailand and Indonesia.
Brief History of Langkawi Cable Car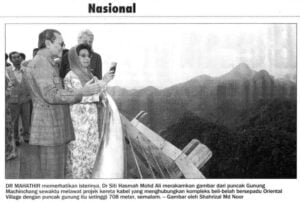 Officially opened in 2003 which is 20 years ago, the Langkawi Cable Car is likely the most impressive attraction on Langkawi Island. This cable ride to the peak of Gunung Machinchang at 850m/2,788 feet high above the sea level. The total length of Langkawi Cable Car is 2.2 km/1.4 mile, with a journey time from the base to the top of around 15 minutes. 
The Langkawi Cable Car project was initiated in 1999 by Prime Minister Mahathir Mohamad during his visit to Langkawi. It was a collaboration between Doppelmayr of Austria and a local company. 
Construction commenced in April 2001 after a survey conducted in May 2000. The cable car system, chosen for its ability to span over 900 meters, features three stations, the Top Station at the peak of Gunung Machinchang, an "angle station" in the middle, and the Base Station. Due to the steepness of the mountain, structural components had to be airlifted to the top using helicopters and an auxiliary cable.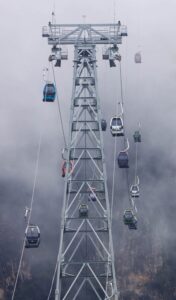 One of the steepest globally, the gradient between the Base Station and the Middle Station is at 42 degrees, with the longest free span for a mono-cable car at 950 meters. Strong winds can temporarily halt cable car operations. The system consists of 35 regular gondolas, each accommodating six passengers with a total weight limit of 480 kg and a maximum hourly capacity of 700 to 800 passengers. 
There are also four bottom glass gondolas for six passengers each and two VIP gondolas, each with three leather seats. The gondolas offer an elevated view of the Machinchang Range's forest canopy at approximately 70 meters.
The Langkawi Cable Car was completed in August 2002 at a cost of RM 46 million. A soft launch took place for six days in October 2002, receiving a positive response from the public, and it officially opened in 2003.
Entrance Details
Opening Hours:
Monday to Thursday: 10 a.m. to 7:30 p.m

Sunday Friday (and holidays): 9.30 am to 7 pm entry (closes by 8 pm) Only Wednesday: 12 noon to 7 pm (closes by 8 pm)
 The ideal time to go is clear weather.
Admission fee:
Malaysians – Adult (RM 43)

Child (2-12) RM 33

Adult Express Lane (RM 93 – No Queuing)

Child Express Lane – (RM 83)

 

Non-Malaysians – Adult (RM 85), Child (2-12) RM 65, Adult Express Lane (RM 135 – No Queuing), Child Express Lane (RM – 115)
A regular round-trip ticket is priced at RM40 for Malaysian visitors and RM55 for non-Malaysian visitors. For expedited access via the express lane, an extra charge of RM50 per person applies.
You can buy a priority ticket for an additional RM 50 ($12.80) which will permit skipping the line and immediately getting onto the gondola. Combo tickets with admission into the SkyRex, SkyDome and 3D Museum Gallery are available too.
To save more time, highly recommend purchase the ticket at the express lane ticket to bypass the queues, especially as the crowds can often be quite exhausting or you can buy the tickets through online and redeem your ticket by presenting order confirmation email or SenangPay email at the ticketing counter.
How to Get to the Cable Car in Langkawi ?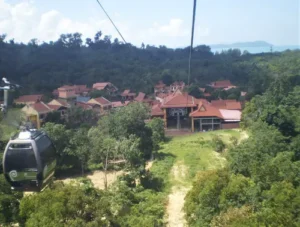 Reaching the Langkawi Cable Car and Sky Bridge is quite easy. It's located on the island's west coast, near Pantai Kok and Telaga Harbour. If you're coming from Pantai Cenang, it will take you about 20 to 30 minutes to cover the 18 kilometers (11 miles) or so.
The quickest way is to take Route 118, passing by Langkawi Airport, and then turn left towards Pantai Kok on Route 114. If you're in Kuah, the island's main city where ferries and cruise ships dock, it'll take less than 30 minutes by taxi or GrabCar. 
If you have your own vehicle, you can explore Telaga Harbour, take photos of the marina and lighthouse, and even enjoy a drink at the cafes.
3 Stops at The Cable Car
The Langkawi Cable Car journey is divided into three distinct stops:
The Base Station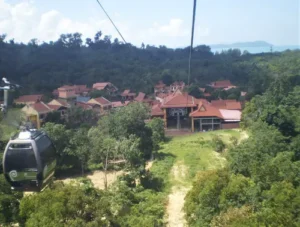 Serving as the starting point for the ride, Situated at the Oriental Village in the northwestern region of Langkawi Island, this is where travelers board the cable cars to embark on their exciting journey. The cable cars cover a remarkable distance of 1700 meters, carrying passengers from the Base Station to the intermediate stop.
Mid Station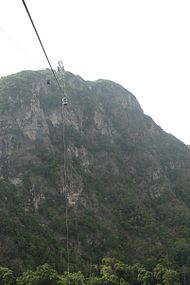 Next, we reach the middle station, positioned at a height of 650 meters above sea level. At this juncture, passengers frequently pause to immortalize the captivating mountain panoramas with their cameras before continuing their cable car journey, which spans the final 450 meters to reach the Top Station. The zenith of the Langkawi Cable Car adventure lies in the highest station, an awe-inspiring 708 meters above sea level.
Top Station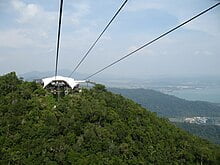 The Top Station is the pinnacle of the cable car journey on Langkawi Island. It offers breathtaking panoramic views of the island's stunning landscape, providing you with an opportunity to appreciate the natural beauty and surrounding vistas. At the Top Station, you can also access the iconic Sky Bridge, which is suspended from a single pylon, offering a unique and thrilling experience high above the mountain peaks. 
How long is the journey?
The cable car in Langkawi takes approximately 15 minutes to reach the summit. You can choose between a standard gondola and one of four glass bottom cabins. After entering, expect views of the jungle, waterfalls, birds below and Pantai Kok, Telaga Harbour and Mount Raya in the distance. On a cloudless day, tourists can see Langkawi's coastline and the nearby islands along with the undulating green of the island's interior. However, visibility is reduced to almost zero on a cloudy day.
Arriving at Guning Machinchang
At the peak of Gunung Machinchang, which is the second highest mountain in Langkawi, Sky Bridge offers some spectacular views of the island. On a clear day, you can see all the way to the mainland and south west Thailand. 
We suggest going in the afternoon or evening because in the morning, the mountain was hidden by thick fog. Walking on the Sky Bridge might feel a bit shaky and could be scary for those who are afraid of heights.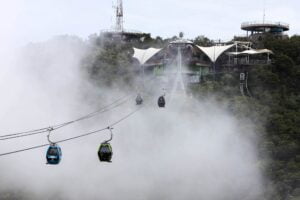 Sky Bridge
The Langkawi Sky Bridge is an elegantly curved suspended bridge situated on Mount Mat Cincang. It extends for nearly 125 meters (410 feet) above the lush canopy beneath it, granting visitors a unique opportunity to observe the scenery, plant life, and wildlife from a distinct vantage point. It took a year to complete the construction of this suspension bridge, and it was opened to the public in 2005. Presently, it can accommodate up to 200 individuals simultaneously. Portions of the bridge have see-through flooring, providing clear views of the mountains directly beneath. There is an additional fee of RM 5 ($1.30) to access the Langkawi Sky Bridge, payable at the top.
Useful tips for passangers
The Langkawi Cable Car may have close for routine maintenance, and it can also shut down suddenly due to strong weather. It's a good idea to visit their website for updates regarding scheduled closures. While some people consider riding the Langkawi Cable Car an essential experience, others view it as a tourist-oriented attraction. When you visit the Oriental Village, be prepared for an atmosphere resembling the entrance to a theme park where various souvenirs are sold. It's not uncommon for visitors to express dissatisfaction about the staff's efforts to persuade tourists to take photos for future purchase.
Safety and Precautions
When visiting the Langkawi Skycab, it's essential to prioritize safety and take certain precautions to ensure a smooth and enjoyable experience. Here are some safety tips and precautions to keep in mind:
Always follow the instructions provided by the cable car operators and staff. Pay attention to safety briefings and guidelines.
 If you have a fear of heights or are prone to motion sickness, consider whether the cable car ride is suitable for you.
 Check the weather forecast before your visit. The Skycab may close during adverse weather conditions, such as strong winds or thunderstorms. It's essential to be aware of any operational updates.
 Ensure that all passengers are physically capable of taking the cable car ride, especially if you have young children or elderly family members.
You may need to wear shoes or sneakers to walk comfortably
Secure Personal Belongings: Safely stow away loose items, such as hats, sunglasses, and mobile devices, during the cable car ride to prevent them from falling.
When taking photos or videos, be cautious and avoid leaning too far outside the gondola or disrupting other passengers.
If you are prone to motion sickness, consider taking preventive measures or medication before the ride.
Familiarize yourself with emergency procedures and the location of safety equipment on board.
 If you encounter any wildlife during your visit, maintain a respectful distance and do not feed or disturb the animals.
Be considerate of fellow passengers and follow cable car etiquette, such as not blocking views and refraining from loud or disruptive behavior.
Facilities
The Langkawi Cable Car stations offer plenty of enjoyable activities. The base station at Oriental Village has lovely shops and restaurants.
At the top station, there's a small café where you can grab snacks like burgers, sandwiches, chicken, fish, and cold drinks. Local artists can create a sketch or caricature of your face right in front of you, or you can buy a picture souvenir that captures your journey. You'll also find small handmade souvenirs and gifts at the stations.
One unique option is getting a wax hand replica created by a craftsman, and you can choose the colors. You'll also find reflexology kiosks where you can have a foot treatment while enjoying the beautiful views.
At the upper station, 708 meters above sea level, you can send letters, postcards, or greeting cards to anyone you like. Plus, there are free toilets and washrooms available.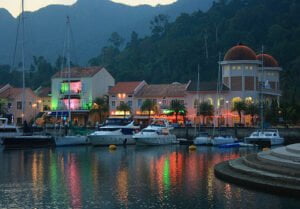 Just 10 minutes away from the Langkawi Cable Car is Paradise 101, the number one exclusive private resort in Langkawi. It's located near Telaga Harbour at Pantai Kok and can be reached by a quick boat shuttle.
You can plan a visit to the Langkawi Cable Car on a day when you want to relax after some water sports activities.
So, whether it's banana boats, island-hopping by jet ski, snorkeling, or taking on the infamous aqua park these are just a few out of the many exciting experiences by the water!
Other fun attractions
SkyRex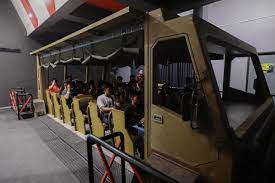 SkyRex is a family friendly attraction, suitable for visitors of all ages, making it a great option for family outings. With exciting experience for those who wish to enjoy everything.  For this tour, you'll be able to sit in a simulator and get ready for a 5-minute ride in a different world. This rollercoaster gives you a one-of-a-kind experience that feels like real life. It has moving seats, bursts of air, splashes of water, and exciting lights!
SkyDome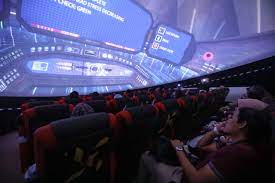 SkyDome is a must-try when you go to the Langkawi Cable Car. It's designed to make your visit more enjoyable and reduce waiting time. SkyDome uses 12 projectors to create a 360-degree 3D picture, giving you a great view of the entire landscape.
SkyBridge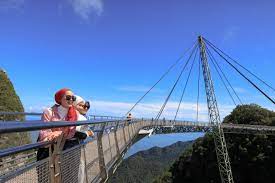 Taking a walk on the world's biggest arched bridge is something you shouldn't pass up. This incredible man-made marvel was constructed over Machinchang mountain and you can get to the bridge from the Langkawi cable car station. It's 82 meters high and hovers about 100 meters above the ground, making it perfect for an exciting adventure. Walking over the sky bridge is like walking in the clouds with wonderful views of the surrounding horizon, the scenery of the island, the skyline, and the seas. It takes around 20 minutes from the resort.
SkyGlide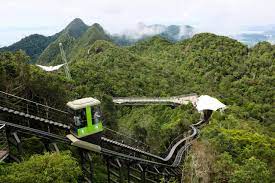 Enjoy a trip on this kind of cargo which travels from above to below according to the level of the slope. Riding this magnificent glider provides a great perspective on and around Mount Machinchang.
SkyBoutique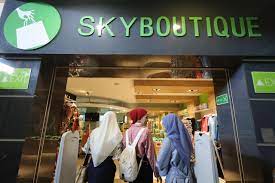 There are approximately three SkyBoutique stores for shoppers that you may visit to purchase souvenirs and goods including clothing, bowls, hats, keychains, magnets, and more. One is located at the base station, the second is at the top station, and the third is at the International Airport of Langkawi (LIA).
6D Cinemotion
Langkawi has every opportunity to amaze its tourists and the 6D Cinemotion is among the things that set the standard. This is one of Asia's first outdoor 6D cinemas and the first in Langkawi. The primary elements of this movie include 3D stereoscopic film, with many combinations of special effects, and a 5D special effects seat that allows spectators to experience their actual life.
3D Art Museum Langkawi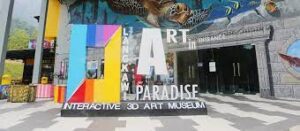 This 3D art museum is located in the vicinity of Oriental Village in an area of 21,000 square feet. This location is renowned for its intriguing 3D interactive artworks by a brilliant international artist.
Sky Adventure Park
This is the perfect location to see some of the exciting tours and a lovely view of nature. During the humpy trails, you may appreciate the bizarre environment while up and down the rides.
Gunung Machinchang
The Langkawi Cable Car is the primary mode of transportation to reach Gunung Machinchang. You can purchase tickets at the base station, and then take the cable car ride that will transport you to the top of the mountain.
Exploring Gunung Machinchang: Once you arrive at the top station of the cable car, you'll be at Gunung Machinchang. Here, you can explore the Sky Bridge, take in the breathtaking views, enjoy the surroundings, and engage in various activities.
Langkawi's cable car ride is one of the most unforgettable thrills you will ever experience even for adults, kids, families, and couples have plans activities and attractions to visit there! Experience a thrilling cable car journey over the beautiful forests of Langkawi and 550 million years of rock. Gaze at the lovely scenery of Pulau Langkawi and the surrounding greenery and wildlife.