ISLAND HOPPING TOUR LANGKAWI
You want to vacation in Langkawi but don't know what interesting activities you can do? Island Hopping Tour is an activity that you can do with your family and will bring you a new experience. Island Hopping Tour will take you to visit three unique islands in Langkawi.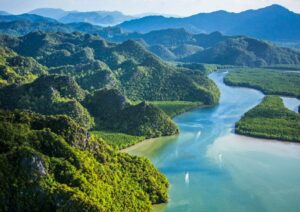 How to go Island Hopping Langkawi?
Boats leave at the Teluk Baru Jetty, which is in Pantai Tengah's southern region. You would probably board the vehicle to the dock last if your hotel is in Pantai Cenang or Pantai Tengah.
• Morning session- From 9.00am until 2.00pm
• Evening session -From 2.00pm
Price
• Price is RM 45.00 for Adults
• RM 40 for children under 11 years old.
• RM 300 for booking a boat for 1 to 8 people
**Make sure you book early to get a better price and make it easier for you to plan activities.
Trip Included;
• 4 Hour Tour
• Visit to Tasik Dayang Bunting Island
• Visit to Lion Island
• Seeing And Feeding Eagles
• Visit to Wet Rice Island
• Relax, Have a Picnic or Take a Bath on the Beach
What to Pack and Wear for Your Langkawi Island Hopping Trip?
It's crucial to stay hydrated because the whole Langkawi island-hopping tour takes place outside. Although many tour operators provide water, we strongly advise carrying your own food, bottled water, and beverages just in case. Refreshments can be purchased at some islands' retail stores; however the costs are typically substantially more than on the main island.
To shield yourself from the intense sun, remember to pack a hat, sunglasses, and sunscreen. It is highly encouraged to bring swimwear and a breathable change of clothes.
The three islands that will be visited are:
1. Pulau Dayang Bunting and Lake of Pregnant Maiden
2. Pulau Singa
3. Pulau Beras Basah
1.Pulau Dayang Bunting (Swimming and Snorkelling)
While at Tasik Dayang Bunting, you are very much allowed to swim. Here, the water flow is calm, so it is perfect for those of you who want to refresh yourself outside with a swim. There are already life jacket rental places where you can go to increase your safety while in the lake water, especially if you are not an expert swimmer. Because the lake is deep enough. In addition to swimming, you can also do snorkelling at the same time. This is very exciting news especially for those who have a hobby of diving. For that one activity, Tasik Dayang Bunting is highly recommended because the underwater scenery is very beautiful. Here, you will find small fish and other beautifully preserved marine biota. There is no need to bring your own snorkel equipment, as there are also places to rent here.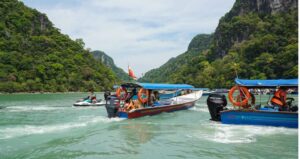 2. Pulau Singa Besar (Eagle Feeding)
A verdant island located southwest of Kuah is called Pulau Singa Besar. In the middle of a tropical rainforest, this undiscovered, remote island with few facilities has managed to preserve its natural beauties. The most popular reason people visit the island is for a camping tour because it lacks resorts or built structures.
Known by its other name, Singa Besar Island, which translates to "Big Lion Island," this stunning location is home to numerous rare kinds of animals and birds. Visitors can see a variety of wildlife, including mouse deer, hornbills, snakes, peacocks, eagles, monkeys, and other species, thanks to the island's serene beaches and mangrove woods. Some amazing shots are captured during the eagle feeding sessions on the excursion to Pulau Singa Besar.
You might not be allowed to visit the island, but you can observe an amazing eagle-feeding session with your tour guide at this location, which is 17 kilometres southwest of Kuah Jetty. Watch with deadly accuracy as they dive for their prey, chicken scraps that the boat driver has tossed into the water—this is a terrific opportunity for photos and videos.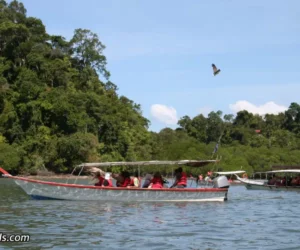 3.Pulau Beras Basah
Located at the western tip of Langkawi, Pulau Beras Basah is a spot that promises to provide you with the most tranquil retreat. This location, with its immaculate beaches and gorgeous vegetation, is regarded as a top-notch vacation site to unwind.
One of the most well-known tranquil islands is Pulau Beras Basah, which draws tourists with its serene white sand and stunning views of the azure sea. A spot to read quietly while becoming sunburned and find comfort in silence while clutching a book. The rich green woodlands that encircle this peaceful beach contribute to the island's serenity and cool, fresh breeze. Commercialization has not yet reached the island. Still, it gives you the opportunity to explore the nature.