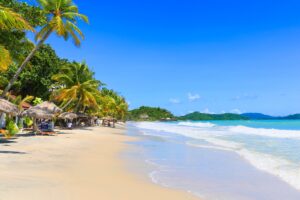 Picture this, a warm sand underfoot, gentle waves lapping the shore, and an ambiance that can melt away your daily stress!  If there's one place that beats all others for unwinding, it's the Langkawi beach!
Whether you're lounging in the sun, watching the mesmerizing waves, or swaying in a hammock between palm trees, relaxation is the name of the
game.
But here's the fun twist, the beach is not just about peaceful solitude, it's also a great place to make new friends.
Feeling sociable?
Grab your favorite book, head to your go-to beach spot, and dive into your reading adventure. As you flip through the pages, your book might become a conversation starter.
Someone else with a love for books could spot it and spark up a chat about theircherished reads. Before you know it, you've got a new buddy to meet up with on your next beach excursion. So, whether it's solitude or making friends, the beach is your ideal escape.
Here are best beaches that'll make your vacation worth traveling:
Tanjung Rhu ( Black Sand Beach )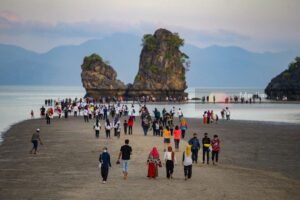 It's not every day you encounter a beach composed of black sand, and this extraordinary phenomenon captivates the imagination of all who visit. If you love taking a break during weekends, Langkawi's Black Sand Beach is perfect leisure spot for you . Although this beach is not suitable for swimming, it is also perfect place for capturing some incredible photographs, picnicking and sunbathing with your loved ones!
Black Sand Beach is a hidden gem waiting to be explored, unlike any other typical beach, this stretch of shoreline boasts a fascinating interplay of white and black sands, creating an intriguing visual contrast. Its location, away from the more touristy southern and southeastern areas of the island, ensures that it remains relatively untouched and enjoys less foot traffic.
Numerous tales and legends circulate regarding the origins of this enigmatic black sand. Some suggest it resulted from a mermaid's curse, while others propose it is the product of solidified lava from the ocean floor.
Another intriguing theory posits that nearly two centuries ago, a massive fire and deforestation event in the region may have contributed to its creation. Regardless of its mysterious beginnings, Black Sand Beach is a destination that beckons to those willing to venture slightly off the beaten path. The effort to reach this unique location
is undoubtedly rewarded by the awe-inspiring sight of black sands meeting the turquoise waters of the Andaman Sea.
Some visitors may be surprised to find that the resort staff is rather insistent about restricting access to their beach for non-guests, so if you wish to avoid such a situation, it's advisable to contact them in advance to inquire about visitation policies.
Tanjung Rhu is characterized by the towering rock formations jutting from the water a few hundred yards offshore, which are reminiscent of scenes from The Beach starring Leonardo DiCaprio.
Unlike the movie, however, Tanjung Rhu is home to a few of the island's oldest resorts, of which Tanjung Rhu Resort is probably the most well-known.
How to get to Tanjung Rhu?
If you head directly from the airport to Tanjung Rhu, you'll immediately notice that you're heading into an undeveloped area full of expansive tracts of thick forest and mountains. The beach is situated approximately 22 kilometers from Kuah Town and can be accessed by hiring a taxi.
The taxi fare is typically around RM40 from Kuah. Alternatively, tourists also have the option to rent cars for self-driving.
You need to reach to Jalan Tanjung Rhu road, located at Padang Lalang village to reach to Tanjung Rhu Beach.
Once you are on this coastal road, a tourist guide will guide you to the beach's entrance. As you drive along the coastal road, you'll to hotels like Tanjung Rhu Resort on both sides.

As you continue along the coastal road, you'll eventually reach the sandy shores that designate the public area of Tanjung Rhu Beach.
While staying at one of the cozy Tanjung Rhu Beach resorts, you're in for a delightful coastal treat. Embark on a direct and scenic walk along the shoreline from Tanjung Rhu to Pantai Pasir Hitam.
The road? Leave it behind. You'll enjoy this seaside stroll during your stay at De Balqis Beach Resorts, situated at the northern edge of Tanjung Rhu Beach. It's a mere 25 to 30-minute walk to explore the stunning coastal beauty at its best.
Activities you can do in Tanjung Rhu
Beach Relaxation
Water Sports: Try out various water activities like jet skiing, parasailing, or banana boat rides.
Sunset Watching
Beach Picnic
Nature Walks
Island Hopping
Photography
Dining: Enjoy local cuisine at beachside restaurants offering a view of the sea.
Fishing: If you enjoy fishing, consider trying it out along the coast of Tanjung Beach.
Cultural Experiences
Pantai Cenang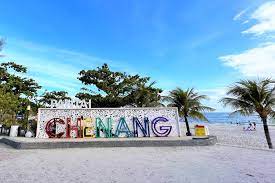 Situated just a 10-minute drive from the airport, Pantai Cenang is especially popular among families with children, thanks to its proximity to Underwater World Langkawi and the Rice Garden Museum, a unique blend of museum and open-air plantation that captivates families.
For the most compelling combination of sheer beauty, convenience, and plentiful options, Langkawi's Pantai Cenang is hard to beat, and it's no surprise that it's the island's most popular destination.
Since this beach popular of all time by seeking both convenience and value, this area caters to visitors seeking both convenience and value, offering a range of attractions from guided scuba and mangrove tours to some of the island's finest seafood restaurants.
Pantai Cenang often have most visitors from international really enjoy, and you'll be able to meet up new people from wide variety cultures has seen an increase in the number of traditional musical and cultural drama performances that are big hits too.
How to get to Pantai Cenang?
If you arrive by airplane, the Langkawi International Airport is not far from Pantai Cenang, in just a 10-15 minute car ride or get a taxi from the airport to where you'll staying in Pantai Cenang. Taxis are easy to find at the airport, and the ride doesn't take very long.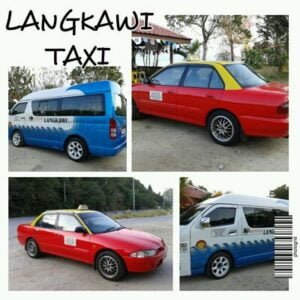 Another option, especially if you want more flexibility during your stay, is to rent a car or scooter. Many rental agencies are available on the island, and driving in Langkawi is relatively straightforward. This way, you can explore other parts of the island at your leisure!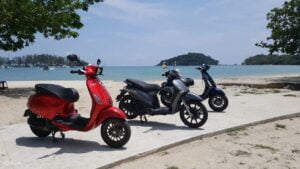 While Langkawi does have limited public bus services, they might not be the most convenient option for reaching Pantai Cenang. Taxis are more commonly used for transportation within the island.
Once you're in Pantai Cenang, you can easily explore the area on foot or rent a bicycle or scooter for short trips. The beach is the main attraction, and there are plenty of shops, restaurants, and accommodations within walking distance.
Activities you can do in Pulau Cenang
Beachfront Relaxation: Unwind on the sandy shores of Pulau Cenang.
Water Sports: Try thrilling water activities such as jet skiing, snorkeling, or paddle boarding
Duty-Free Shopping: Explore the duty-free shops for a unique shopping experience.
Island Hopping: Arrange a boat tour to explore nearby islands and their attractions.
Sunset Cruises: Experience the breathtaking sunset on a relaxing cruise.
Culinary Exploration: Enjoy a diverse range of local and international cuisines at beachside restaurants.
Underwater World Langkawi: Visit the aquarium for a fascinating marine life experience.
Nightlife: Explore the vibrant nightlife with beach bars and entertainment options.
Mangrove Tours: Take a boat tour through the mangroves and appreciate the natural beauty.
Art and Culture: Discover local art galleries and cultural exhibits for a taste of the island's heritage
Pulau Payar
Paya Island is known to have the largest of the islands which is an astonishing island in Langkawi Archipelago. The name 'Payar' means small island . You can enjoy its tranquility, crystal clear waters and rich marine life. Fish, reef sharks and sea turtles are some of the sea creatures that can be found around the island and also have
swimming and snorkeling activities.
This location is about 19 kilometers away from the main island of Langkawi. It consists of four small islands including Pulau Payar, Palau Segantang, Palau Kaca and Pulau Lembu. It has been officially designated as a marine park.
How to get to Pulau Payar?
You can take a ferry to Payar Island from either Penang or Langkawi in Malaysia. If you start from Penang, the ferry goes to Payar Island and then continues to Langkawi.
You can also choose to return to Penang. If you start from Langkawi, the ferry goes straight to Payar Island, and you can return to Langkawi afterward. So, you have options to plan your tour either from Penang to Payar Island and then to Langkawi or directly from Langkawi to Payar Island and back to Langkaw
In Penang and Langkawi, you have the option to arrange a visit to Pulau Payar through your hotel, resort, or local travel agencies. However, do expect the relatively high cost, as a Pulau Payar excursion typically comes to around RM250 when booking through tour offices on both Penang and Langkawi.
This price includes convenient hotel pick-up and drop-off (applicable to Penang and Langkawi), a satisfying lunch, and the provision of snorkeling equipment.
It's worth noting that the boat ride from Penang takes approximately 2 hours to reach the island, while from Langkawi, it's a shorter 45-minute journey. The island can only be accessed as part of a guided tour.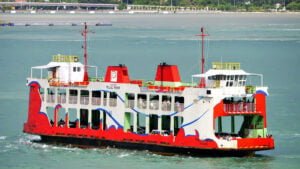 Upon arrival, boarded the ferry, which, it must be noted, could use some maintenance. A helpful tip, the boat journey lasts approximately one hour, and there are no refreshments available on board, so be sure to bring a water bottle with you.
You have the option to sit on the upper deck, where you can enjoy the wind in your hair or cool your bald spot, while admiring the picturesque surroundings, including small fishing boats and remote islands. The ferry docks at a pontoon located around 100 meters from a pristine white sandy beach.
The islands have become quite tourist-oriented, which sometimes results in sharing fish-viewing experiences with numerous others. Furthermore, there is a pressing issue of ;coral bleaching caused by rising sea temperatures, which has negatively impacted the coral's health.
Below, you will find some guidelines to follow to help alleviate the environmental pressures faced by Pulau Payar:
1. Refrain from feeding or touching the fish unless you'll get a premission from the owner
2. Properly dispose of your waste in bin and avoid littering in the water.
3. Use designated restrooms and toilets.
4. Avoid stepping on the coral, wearing a life jacket and swimming without flippers can help prevent unintentional damage.
Activities you can do in Pulau Payar
Snorkeling: Explore the vibrant underwater world with a snorkeling adventure.
Scuba Diving
Glass-Bottom Boat Tour
Picnicking
Feeding Fish
Coral Viewing: Admire the stunning coral formations by taking a guided coral viewing tour.
Nature Trails: Explore the island's natural beauty by taking a walk on designated nature trails.
Shark Bay (Teluk Yu)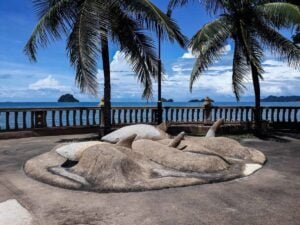 Shark Bay Beach is a lovely and famous beach in Langkawi, especially among tourists. Locally, it's called Teluk Yu, meaning Shark Bay. Yu means Shark, Teluk means Bay.
Don't worry, there are no real sharks in this beach. Means perfectly safe place to swim and enjoy the beautiful turquoise water. The name comes from some shark-shaped rocks around the beach promenade.
The water here is very peaceful and calm. Shark Bay is on the north coast of Langkawi, between Pantai Pasir Tengkorak beach to the west and Pantai Pasir Hitam to the east. Although it's not a very
long beach, more like an extension of the Black Sand Beach.
How to get to Teluk Yu?
Getting to Shark Bay, or Teluk Yu, on Langkawi can be quite straightforward. If you're coming from the east of the island, follow Jalan Teluk Yu road, heading west.
Keep an eye out for a long, low concrete fence adorned with yellow and red colors. Just before reaching this fence, you'll find an entryway between two concrete structures leading to a small, lesser-known park.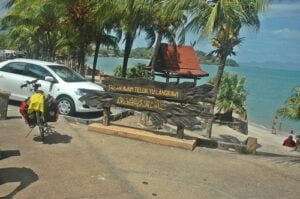 Many tourists choose to enter from this side, as it's more convenient. You' ll also find car parking available along the roadside to make your visit hassle-free.  If you are driving to the beach on Jalan Teluk Yu road, coming from the east to the west, look for a low concrete fence with yellow and red colors. Just before the fence,
you'll see an entrance between two concrete structures leading to a small, lesser- known, and private park.
Another way to access the beach is through a lovely concrete promenade, which is less than a minute drive from the previous entry point, toward the west. This public beach is open 24 hours and no entry free.
There's another entrance to the beach through a nice concrete walkway less than a minute's drive from the previous entrance, towards the west. This is where most tourists go to visit the beach. There's also roadside parking available.
Activities you can do in Shark Bay (Teluk Yu)
Observing Shark-Shaped Rocks
Beachcombing: Explore the sandy shores and collect seashells or other beach treasures.
Scenic Photography:  Capture the picturesque landscapes and the interesting shark-shaped rocks.
Relaxation: Unwind on the beach and enjoy the serene atmosphere of Shark Bay.
Sunbathing: Soak up the sun and work on your tan in this idyllic beach setting.
Swimming: Take a refreshing swim in the clear waters of Shark Bay.
Fishing: Try your hand at fishing along the coast of Shark Bay.
Picnicking: Pack a picnic and enjoy a meal with a view of the unique rock formations.
Bird Watching: Explore the natural surroundings and observe local bird species in the area.
Boat Tours: Arrange a boat tour to explore the coastline and nearby attractions from the water.
What to bring to Langkawi Beach?
Sunscreen
Sunscreen is an absolute must!
It's not uncommon to return from a beach vacation with unexpected sunburn. Don't forget to apply SPF protection before hitting the beach and ensure you choose the right SPF level for your skin. Highly recommend
opting for eco-friendly sunscreen that excludes harmful chemicals or reef-safe sunscreen to safeguard marine life and plants.
Beach Mat
When selecting your beach mat, choose wisely to prevent it from being carried away
by the wind or accumulating sand, which can be a hassle to clean at the end of the day. A beach mat is essential for a comfortable resting spot while you enjoy the scenic view throughout the day.
Water-Resistant Bag
A water-resistant or waterproof bag is a non-negotiable. Use it to store everything from towels and sunscreen to books. Keeping your valuables safe from water and sand will give you peace of mind knowing they won't be damaged.
Flip-Flops
Wearing shoes to the beach often results in a year-long battle to remove sand. Purchase for classic flip-flops for comfort and ease of wear at the beach. Bringing them along will save you from regrets and discomfort.
At the end, Beaches offer a wealth of excitement for sports enthusiasts, and here's why. They are renowned for their excellent weather, making them the ideal setting for outdoor sports and activities. Their vast open spaces provide a perfect arena for games such as volleyball and soccer. Depending on your beach destination, you can take a dip in the ocean, ride the waves, or embark on water adventures like kayaking, canoeing, or stand-up paddle boarding.
And when you're ready to take a break from your favorite sport, there's always a variety of food and drinks to savor by the shore.
In a world that relies a lot on technology, the moments we love the most usually happen when we take a break from gadgets and enjoy nature without any digital interruptions. That's why many people really like beaches, they remind us of how things used to be and show us what the world could still be like.