Vacationing in Langkawi but don't know what activities to do at night? Langkawi is not a big island but there are still places that tourists can visit at night. There are several places you can visit at night while you are in Langkawi. Here we will provide some interesting locations for you to visit for free at night which consist of Muslim friendly places and entertainment places for non-Muslims.
FOOD AND VIEWS (FREE ADMISSION)
1. Langkawi Night Market
The night market in Langkawi is not only in one place, but you can enjoy local food
such as kuih-muih, Nasi Kerabu, Nasi Kandar and many more at this night market.
There are several night markets that you can visit in Langkawi such as.
• Sunday – Padang Matsirat Night Market
• Monday- Ulu Melaka Night Market
• Tuesday- Kedawang Night Market
• Wednesday- Kuah Night Market
• Thursday- Bukit Malut Night Market
• Friday- Ayer Hangat Night Market
• Saturday- Kuah Night Market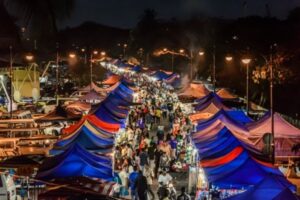 The operating hours for this night market are from 5:00 pm to 10:00-11:00 pm. So, if
you want to find food at a cheap price and full of variety you can visit all the night
markets by day. This is because every day is different the location of the night
market also changes.
2. Chenang Walk
If you are tired of activities during the day and want to shop for souvenirs for your acquaintances, you can move by just walking around Chenang Walk. In this Area, there are various types of shops and services available for tourists to explore. Among the chocolate shops found in Chenang Beach whose prices are worth buying as souvenirs are Warisan Duty Free, Eastern Native and Zeno Duty Free are shopsthat are often visited to give goods at reasonable prices.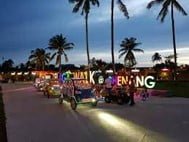 You can also dine on a variety of dishes from various countries and fresh seafood. Chenang Walk also opens space for you to enjoy food at food trucks that provide delicious food and are open until late at night.
3. Anak Hantu Beach Bar
You can enjoy the iconic fire show at Chenang Beach. You can also take the night breeze by strolling along the beach and can entertain yourself when you enter this bar. You can enter and sit in the beanbag provided and you only need to buy the drinks that are sold and ready to see a very good and professional fire show. The show will usually start at 9:00pm -12:00pm. With the sea breeze blowing, it certainly makes your vacation more interesting.
4. Telaga Harbor Park
You were around the Cable Car in the evening and want to go back to the hotel? You can stop for a while at Telaga Harbor Park to enjoy a very beautiful view. The view is very beautiful with the ocean stretching wide and you can see the sunset. Here there is a lighthouse that stands firmly by the sea. Here there are also several restaurants that have delicious and tasty menus such as The Loaf. However, some restaurants here are not halal and serve alcohol and pork. But it is the best place to calm your mind because the view of the port of luxury ships is in front of your eyes.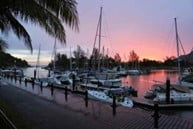 5. Eagle Square
This is an iconic place for Langkawi because it is here that there is a replica of a large eagle that is the landmark of Langkawi. With an abundance of diverse lights and being on the seashore, you can walk around the replica to take pictures. Here there is also a paid electric car for children to play. You can also take pictures around because there are arches with lights and poles for you to catch the breeze.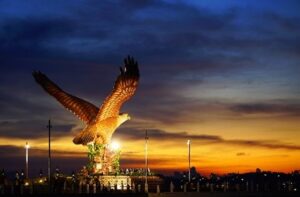 6. Maha Tower
Once you are at Eagle Square, you can also visit Maha Tower and Maha City. In this area there are several outlets that you can visit to chat and enjoy the beautiful scenery. Here there is often an expo that provides a variety of goods and tasty and affordable food. You can buy your favorite coffee and see the sea view at Maha Tower. Maha Tower also offers a service for you to explore the scenery around Langkawi when you can buy a ticket to go up to the top of the Tower. Tickets can be purchased at Maha Tower by walk-in. Here you can also see groups of motorbikes or cars making a potluck that brings food and sharing together around/by the side of the road.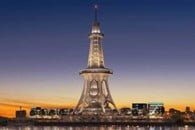 7. Dream Forest Langkawi
There is a place you can visit with the whole family that has just opened in Langkawi. After you have enjoyed dinner, you can come to Dream Forest Langkawi which is open from 7:00 pm until 12:00pm and closes on Wednesdays. This place provides a unique experience when you walk 1.2 km to see the beautiful flickering lights in the forest and it is a legendary concept that exists on Langkawi Island.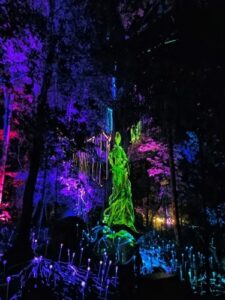 NIGHTLIFE BAR AND ACTIVITIES IN LANGKAWI
For those of you who want to spend the night at luxury bars and restaurants, Langkawi is still an island that can give you beautiful memories while traveling. You can enjoy and relax on the beach by listening to the best songs and we have several places you can visit for that purpose.
1.D'Reef at The Cliff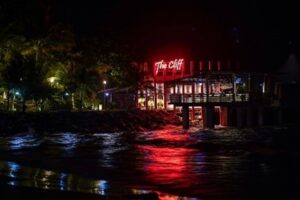 Suspended over the Pantai Chenang headland, D'Reef at The Cliff is a beautiful outdoor bar. Enjoy a drink at this fantastic location while taking in the expansive Andaman Sea sunset views. Forty guests can be accommodated at a time at D'Reef with ease. The venue is decorated with tasteful furniture, crisp white tablecloths, cozy lighting, sophisticated décor, and an island bar that is completely supplied in the center. A large selection of beers, wines, and specialty cocktails are available at the bar. A couple of must-try are Hang On (vodka, Midori melon, orange juice, mango juice, lime juice, sugar syrup), and The Cliffhanger (rum, triple sec, peach syrup, orange, pineapple, and lime juice).
Location: Lot 63 & 40, Cenang, Mukim Kedawang, Lebuh Pantai, 07000 Pulau
Langkawi, Kedah, Malaysia
Open: Daily from midday to 11 pm
Phone: +60 (0)4-953 3228
2.Yellow Beach Café
Once the sun sets over Pantai Chenang, Yellow Beach Café, an intriguing all-day beachside eatery, turns into a cozy bar. With walls, chairs, beanbags, hammocks, and other furniture all in various colors of yellow, the lively venue really stands out for its stylish décor. There a bohemian vibe to the pub, where people are hanging around in board shorts and bikinis. Every day, there are additionally happy hour promotions, which are a great offer considering how cheap alcohol is already in Langkawi.
Location: Jalan Pantai Tengah, Jalan Pantai Chenang, 07000 Langkawi, Kedah,
Malaysia
Open: Tuesday–Sunday from 5 pm to midnight (closed on Mondays)
Phone: +60 (0)12-459 3190
3.Charlie's Bar and Grill
Tucked away by the charming harbor, Charlie's Bar and Grill offers its patrons the most tranquil sea views delectable cocktails, and succulent seafood, all while providing a stunning nightlife experience in Langkawi. When viewed against the stunning backdrop of the bay, this creates a highly hypnotic atmosphere. In addition to its well-known fish and chips, the bar serves a variety of international cuisines and Malaysian specialties. 
Location: Jalan Dato Syed Omar, 07000 Kuah, Kedah
Timing: 12:00 PM- 11:00 PM
Cost: RM 40 – RM 60
4.OMG Bar at Paradise 101 Langkawi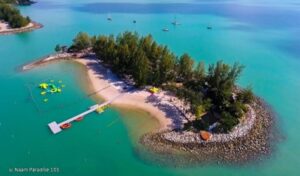 As night falls, head to Paradise 101's lively OMG bar. Located on a private beach between giant, ubiquitous palm trees and clear seas, this beach house-style bar offers a wide selection of cocktails, wines and spirits prepared by certified mixologists. This bar is even more amazing because it is isolated from Langkawi Island and you have to go by boat to get there. Enjoy an uninterrupted vacation on this private island. If you are looking for non-alcoholic and healthier options, you can quench your thirst with a whole range of cocktails (RM20), healthy organic juices and smoothies (RM11.50). Along with drinks, take a dip in their pool, enjoy darts and other versatile board games as you party the night away. This bar offers the best Langkawi nightlife that is worth experiencing.
Address: Paradise 101, 07000 Langkawi, Kedah
Operating Hours: 10AM-6PM (Daily)
Tel: +60 12 473 2901
5.Galaxy Family Karaoke
Galaxy Family Karaoke lets you sing your favorite tunes for up to RM40 for 2 hours, including free snacks! You get a spacious and comfortable room with good acoustics and a sound system. However, the track list usually doesn't have the latest hits, so that's a big drawback. If you want to rest your voice, go to the lounge, and try their game of darts.
Address: No. 1, 2 & 3 Tingkat Satu, Pusat Perniagaan Kelibang Indah, Jalan Kelibang Indah, 07000 Langkawi, Kedah
Operating Hours: 3PM-1AM (Fri-Wed)
Tel: +60 12 313 5550
 Langkawi gives pleasure when you know where and how to entertain yourself while you are here. So, make sure you are the one who receives an amazing experience when you are in Langkawi and when you visit interesting places. explore the land of Langkawi in your own way!